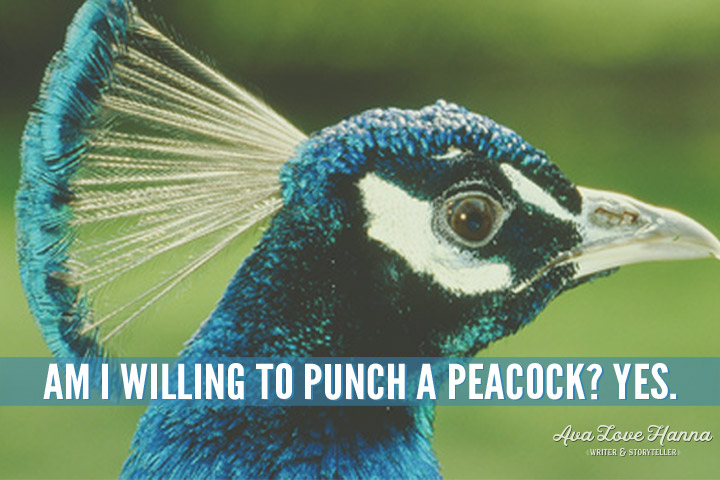 It was a beautiful, sunny afternoon, the skies were clear, there was a slight breeze, but the peacocks… the peacocks were angry that day, my friends…
A few weeks ago, my son and I picked up lunch at the grocery store and went to Mayfield Park for a picnic. It's a popular Austin park known for its historic cottage and brilliant peacocks that wander the grounds. I'd never been, but this seemed like the perfect way to spend an afternoon with my son. Peacocks are awesome, right?
Wrong. I would soon learn that peacocks are scary and Mayfield Park is full of them.
Shortly after Kai and I sat down at a picnic table just outside the main grounds, two peacocks came walking across a low stone wall next to another family. I was mesmerized by how large and beautiful the birds were and ran over to take pictures, but the other family seemed unnerved, looking down and sitting in perfect silence. Apparently, this wasn't their first peacock rodeo – they knew something I didn't know yet -- peacocks are super jerks.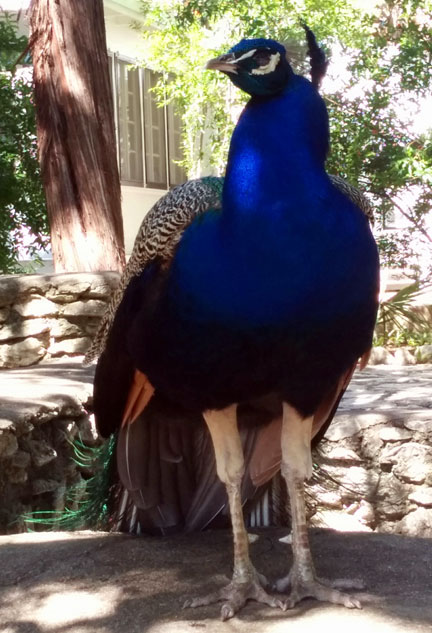 Now, if you've never seen a peacock up close, let me tell you about them. They're beautiful birds. Their feathers are colored in iridescent jewel tones that sparkle in the shadows and glimmer in the sunlight. They sport a crown of feathers on their heads, and the males have a brilliant train that trails behind them. They have a confident, regal walk… and a big case of bad attitude.
The larger of the two birds jumped up onto the rooftop of a small building and the other perched in the tree above the picnic tables, his magnificent tail hanging below him – as soon as this happened the other family grabbed their belongings and ran away. Okay, that's weird, I thought, but whatever, I was happy enough to claim their table in the shade and spread out our lunch.
Another interesting fact about peacocks – they're loud. Their call is not nearly as pretty as their feathers and can be unnerving. For example, as they call back and forth to each other you may suddenly realize that there are not just two peacocks, but that you are actually surrounded by peacocks. They're quiet, and sneaky like really pretty velociraptors…You'll look at your salad, get ready to take a bite, hear 5+ peacocks calling to each other all around you and realize that you are about to enact a much prettier version of a scene from Jurassic World. It doesn't matter if your phone says it's 2 pm, it's about to be Peacock O'Clock.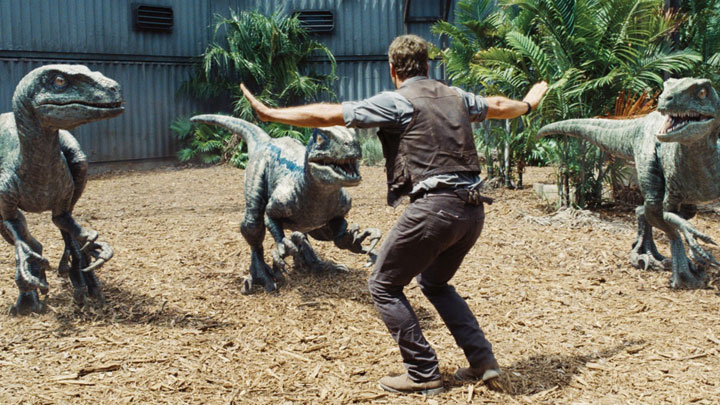 We started to eat our lunches, laughing and enjoying each other's company. I'll admit that I was feeling pretty good about having picked the perfect park for our lunch and thinking about what an awesome mom I was, but I'll warn you now -- peacocks can sense pride. Less than 30 seconds later a large peacock jumped up behind me on the wall and another walked towards Kai on his side of the table.
Hey Kai, look that peacock is walking towards you, let me take a picture, this is so cool… wait he's coming fast, nope, move. Move now, Kai! Seriously, don't just sit there, get up, now!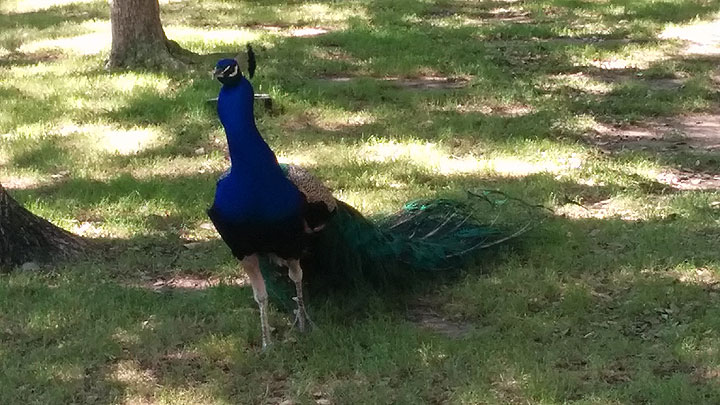 At this point I drop my phone and jump across the picnic table to grab my 8 year old who was inches from having a peacock beak in his leg and wondering what the hell had caused that to happen. I scooped our lunch into a bag as we backed into the wall… where the other large peacock was eyeballing us menacingly. We were effectively trapped between a rock wall full of peacocks and a hard place (also full of peacocks). We moved further down the wall and waited hoping that they would forget about us and just relax. There was a low bench here so we slowly pulled out our food and started eating again. The peacock which had us cornered turned and started walking towards us again.
"I don't get it. I'm eating salad. Are they attracted to my salad?"
Kai seemed to think this was my fault and screamed "Of course! They're mad at you for eating nature! They think you hate nature!"
I don't hate nature. And I tried to tell the advancing peacock that, but he wasn't listening. Then, I thought, well maybe he likes salad… maybe he's just trying to get a bite of my salad, and (I'm not proud of this, but I was panicking) I threw a baby spinach leaf at his head. I don't know what I expected to happen, but I think he was supposed to grab it out of the air with his beak and eat it like a Scooby snack… instead he dodged the spinach leaf and ran at us even faster.
Now, this may come as a surprise, but I don't have a ton of experience with animals. The only thing I could think to do was to make myself look big. So I puffed myself up, balled up my fists, swung my arms out in front of me like a crazy person, looked that peacock right in its beady jerk eyes and said get back or I will punch you! And then Kai and I ran like crazy while it chased us towards the parking lot.
We were sweating and shaking, but relieved that the peacock stopped abruptly at the paved sidewalk. We made it. I was panting and trying to warn other people walking into the park to be careful which I'm sure they appreciated and didn't think I was insane at all.
I was still confused by what had happened, so naturally, I went to Facebook for help. While a majority of the comments suggested that the peacocks were in love with me (my friends are jerks), several comments were about how my friends and family had also been attacked by peacocks at that very park. Why wasn't anyone talking about this??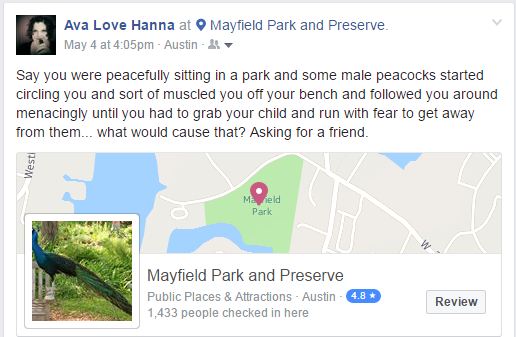 I have read tons of reviews for Mayfield Park and not once have I ever heard of anyone being attacked by peacocks. Yet, right here on my own Facebook page were comments by people I know and love all facing the same familiar shame – being chased out of a public park by really pretty birds. I can only assume that Mayfield Park is home to some sort of Peacock Fight Club, and we all know the first rule of Peacock Fight Club, right? (You DO NOT talk about Peacock Fight Club)
I learned some really important things during that lunch. For example, Peacocks are jerks and will attack you for no reason or if you are eating a salad. Throwing baby spinach is not an acceptable defense. And, most importantly, I am willing to punch a peacock if it hurts my child.
This is why being a parent is so amazing. Before I became a mother, I never had to think about what animals I would be willing to punch in self-defense. I love animals, and I would never condone hurting one, but I can tell you in all honesty, that as that peacock menacingly approached my child and refused to back away, I was willing to use Strunk and White to defend us. (Yes, I named my fists Strunk and White -- I'm an English major.)
So, on the days when I feel like I'm overwhelmed, when I'm not doing enough or being enough as a parent, when I feel weak or tired, I can look back on the Great Peacock Attack of 2016 and know that I am enough. I can know that I am strong enough and smart enough to take care of my child in tense situations, and that I would do anything for my son --  even if that thing is throwing my body in front of a group of charging peacocks.